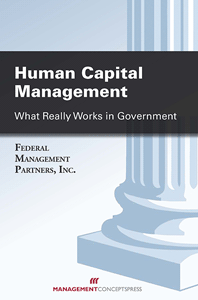 This chapter describes how The Office of Inspector General at the Department of Transportation has made incredible changes over the past five years. New leadership made it happen — new leadership with determination, patience, a focus on its people, a willingness to listen, a readiness to invest, and a penchant for measuring and self-assessment.
It's a powerful story that any leader — any organization in government or elsewhere — can learn from. It blazes a trail for dramatic organizational transformation we should all strive to follow.
Excerpted with permission from
Human Capital Management: What Really Works in Government
by Federal Management Partners, Inc. ©2014 by Management Concepts, Inc. All rights reserved.
www.managementconceptspress.com
.